35 Stunning Nigerian Wedding Dresses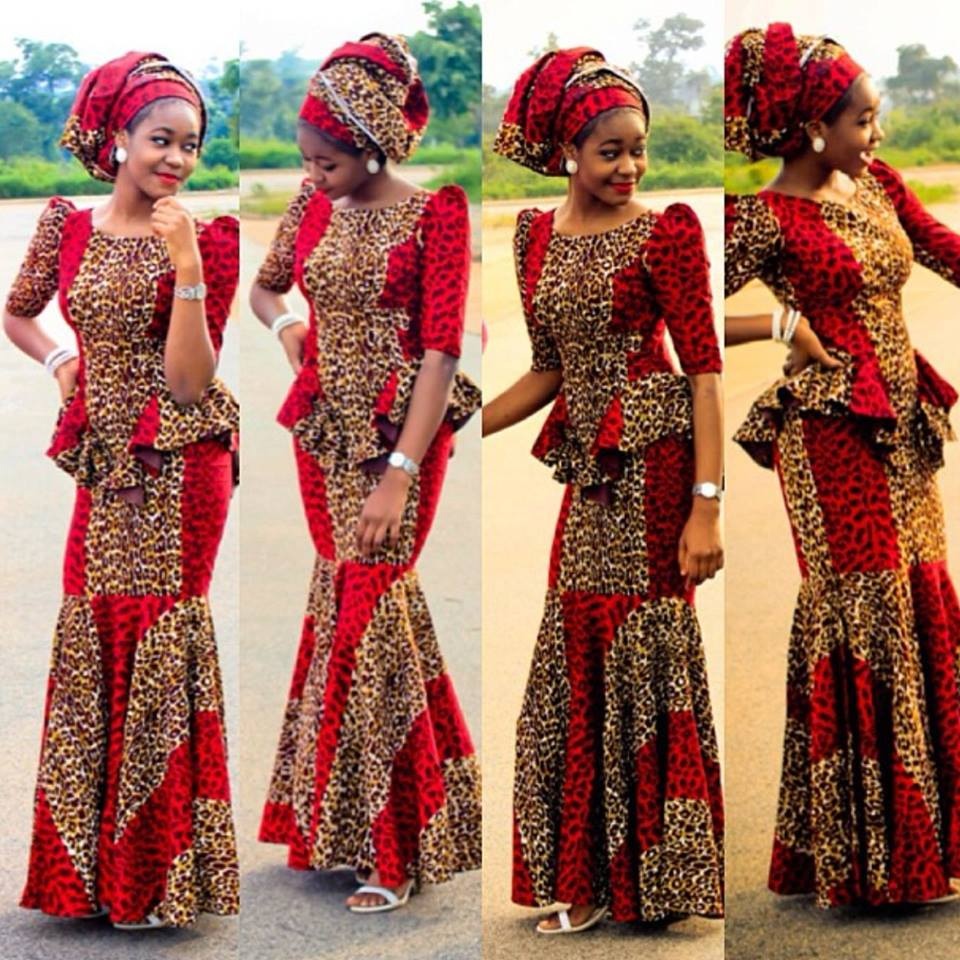 In Nigeria, usually three types of weddings occur: court weddings, church weddings and traditional weddings. These weddings take place at different places and most couples actually do all the three depending of course, on their financial state. Generally, court wedding takes place first, then the church wedding then the traditional wedding ceremony. They are normally characterized by different colors and dancing and music.
Customs vary from one part of Nigeria to the other with the traditional weddings. Like in the Western parts they refer to it as the engagement ceremony. Usually elders and officials drink wine while inviting the couple for introductions and negotiations. Negotiations include presentation of the bride price (dowry), consisting also gift of shoes, jewelry, bags and textile. Then, festivity and fun follows. On the other hands, the Eastern parts of the country somehow follows the same tradition adding a little more activities. Elders from the bride and groom gather into a room to negotiate on the dowry. After this, gifts are presented to the bride's family then the bride with her entourage of girls is presented to the groom, the groom's family and to the guests.
Talking about traditional weddings, the following are the top 5 Nigerian traditional wedding dresses.
1. Aso Oke
Aso Oke (read as Ah-Shaw-Okay) means top cloth. These are the dresses woven by the Yoruba men in Nigeria. Men's aso oke dresses are called agbada. We have to understand that there are 3 main types of aso oke dresses: Alaari, Sanyan and Etu. Alaari are the red ones; Sanyan which are usually brown or light brown aso oke dresses; Etu, the dark blue aso oke dresses.
Aso Oke Alaari Clothing

Aso Oke Alaari Neck Sash

Aso Oke Etu Textiles

Aso Oke Etu Wedding Attire

Aso Oke Sanyan Dresses

Aso Oke Sanyan

blue themed aso oke
ao41

Bride with Blue Gele
ao31

couple with purple aso oke
aoc41
Aso Oke dresses are worn throughout the southwestern part of Nigeria during their weddings. Women's aso oke garments usually consist of 4 parts: the Yoruba blouse called "Buba", the wrap skirt called "Iro", the head tie called "Gele", and the shawl or shoulder sash called "Iborun" or "Ipele". Mean typically wear agbada and trousers called "sokoto".
Aso Oke for Women

Traditional Wedding Aso Oke

Aso Oke for Men

Aso Oke Agbada

Wedding Aso Oke Couple

Yoruba Wedding

couple on dark blue aso oke dress
aoc51
2. Ankara
Ankara is actually one of the cheapest traditional fabrics which is made by using Indonesian batik making techniques. It has tribal-like patterns with bright colors. Unlike Aso Oke which are used specifically for weddings and other occasions, Ankara are also used for everyday wear.
Ankara Dress

Ankara Skirt

International Nigerian Ankara for Weddings

Lace High Top and Ankara Fish Dress

sleeveless squared neck slipdress styled ankara
ank191

off shoulder purple ankara dress
ank181

stylish blue sweetheart dress
ank171

straight across strapless with stunning pattern dress
ank131

gorgeous peplum styled sheath ankara
ank101

off shoulder blue dress

print skirt, pencil skirt kitenge ankara

peplum above the knee dress
ank71

simple but elegant high waist dress
ank51

princess styled bateau ankle length dress
ank31

stunning purple shift dress ankara
ank21

adorable flower patterned mini sheath dress
ank12
3. Aso Ebi
Aso ebi means "uniformed solidarity dress". These dresses are known for their association with weddings and other special occasions. It is the oldest and most valuable type of African attire. They are like uniform dresses worn by family members during weddings and other special events in Nigeria.
Basically, Aso ebi serves a number of functions. First, it ensures continuity in relation to the use and production of the previous clothing – the aso oke. Second, it helps visitors identify the wife/groom/celebrant's family members or those who belong to the same social or religious group with groom or the bride,or the celebrant. Third, it is used not only by Nigerians but the rest of the African countries too.
African Weddings Aso Ebi Styles

Aso Ebi for Men

Aso Ebi Nigerian Wedding

Aso Ebi Uniform Dresses

Aso Ebi Wedding Attire

wedding picture on their solidarity dress

bride with her relatives wearing aso ebi

purple-blue blend on aso ebi

Fabulous Purple Dress

aso ebi long dress

peplum style aso ebi
Weddings are the major events to use aso ebi but they can also be used in any general or official occasions.
4. Jewel by lisa
Jewel by lisa is a luxury dress with a mix of modern and traditional design. It was the first one to embellish Ankara with sequins, swarovski crystals and beads.
Jewel by lisa is among the fabulous African dresses which can be used in weddings. They are women's wear and accessories collection which are becoming the most prominent Nigerian luxury brand with its careful attention to details and quality craftsmanship.
Jewel By Lisa Altaroma

Jewel By Lisa Collection

Jewel By Lisa Dress

Jewel by lisa stylish outfits

Jewel by lisa sleeveless dress

Jewel by lisa above-the-knee dress

wild and fierce jewel by lisa
5. Bella naija
Like the other traditional wedding dresses, bellanaija adds beauty in a wedding. It is used in many Nigerian weddings as aso ebi dresses. Below are bellanaija dresses used in Nigerian weddings.
BellaNaija Weddings

Wedding BellaNaija

yellow themed nigerian bella naija wedding
bn31

beauty on fleek nigerian bella naija wedding
bn21

purple theme bella naija wedding
bn1

Violet Couture Dress

afromantic white bella naija dress

afroman bella naija dress

stylish peplum with cut bellanaija dress
bn51

gorgeous black shift style dress with bias cut bellanaija

yellow top with blue puckened skirt drop waist style dress bella naija

stunning red dress with a mermaid skirt style bella naija